Preventive dental care begins at home and is maintained through regular check-ups at the dentist.

Read about our preventive services and tips below:


Cleanings & Exams
Cleanings
Professional cleanings performed by a hygienist or dental assistant are important to your child's dental health, as are daily brushing and flossing. Using specialized tools and kid-friendly language, we will:


| | |
| --- | --- |
| • | Remove plaque build-up from the surfaces of teeth. Bacteria in the mouth form plaque, which collects on teeth and causes decay, gum disease, and gingivitis |
| • | Remove tartar from teeth surfaces. Tartar, or calculus, is plaque that has become so hardened on the teeth that its removal requires special procedures. Tartar below the gum line is also an indicator of gum disease, and generally appears on older children and adults |
| • | Help with brushing and flossing techniques, and encouraging healthy eating habits at home to promote good oral development |
| • | Remove surface stains from teeth through polishing |

Exams
Regular examinations help detect and prevent health issues before they become serious. Twice yearly dental check-ups help catch problems when they are small and easier to treat. Left unattended, small treatable problems become worse and may require more extensive, expensive procedures to repair. Dental examinations in our office generally include the following:


| | |
| --- | --- |
| • | Digital x-rays to assess proper tooth development and healthy eruption of primary and permanent teeth |
| • | Thorough examination of the teeth, looking for areas of decay, teeth that will be exfoliating (coming out soon), future orthodontic needs, and any treatment diagnosis |
| • | Head, neck, and mouth visual examination |
Choosing the Right Toothpaste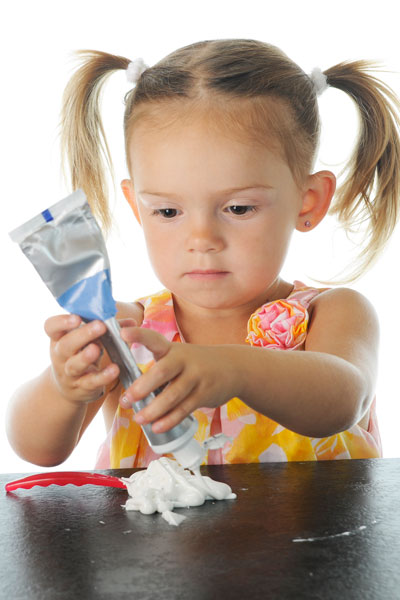 We encourage you to pay attention to the type of toothpaste you give small children; fluoride levels vary from product to product.

For children under age 2, the American Academy of Pediatric Dentistry endorses a tiny smear of fluoridated toothpaste. A pea-sized amount is recommended for children under six years of age, but read the fine print on the tube for recommendations. You should also keep it out of reach; kids are sometimes tempted to eat toothpaste.

Fluoride is helpful in preventing dental caries, but too much can cause defects in the enamel or more serious conditions. Please call our office at (541) 756-0156 if you have questions or are unsure about your child's toothpaste.
Tips for Brushing
New research by Aquafresh® suggests that teaching children good oral hygiene habits is stressful for parents. According to this study, more than one million children under the age of five have two or more fillings. A quarter of the parents interviewed said that their children only brush their teeth once a day and visit the dentist only once every two years. Parents say that getting their children to brush is extremely stressful and that visiting the dentist leaves them feeling judged when their child has a cavity. Some said they are just plain embarrassed about the condition of their child's mouth.

So, what can be done to make brushing easier on both parents and children? Below are eight ways to encourage kids to brush and make brushing time not only easier but even a little fun!

| | |
| --- | --- |
| • | Start early: Before ever buying a toothbrush, wipe baby teeth with a clean soft cloth to not only clean teeth but get your child used to tooth care |
| • | Model Good Oral Hygiene: Let children see you brush and floss often |
| • | Don't Underestimate the Power of Fun: Find a toothbrush with a favorite character, music, lights, or colors to encourage fun. Pick a silly song to sing while teeth are being brushed |
| • | Choose the Right Toothpaste: A child who enjoys the taste of the toothpaste is more likely to brush. For children under age 2, the American Academy of Pediatric Dentistry endorses a tiny smear of fluoridated toothpaste |
| • | Colored, Hand-Held Flossers: Fun, easy, and they can be used anywhere (try keeping them in the family room for use during a TV show or movie) |
| • | Rewards Chart: Reward kids for good brushing with stickers and small prizes |
| • | Educational Tools: Try books, videos, and games that encourage children to brush |
Mouthguards
Contact sports are a great way for children to exercise agility and strength, but for many children, this also means wearing a mouth guard. This is typically an area that many kids resist and parents get tired of fighting, but it is a battle that is well worth not giving up. A mouth guard serves many purposes that can not only save your child's teeth, but potentially saves you money by reducing the chance of sport induced injuries. If you are struggling to get your child to wear one during sports, try providing these simple reasons.

Safety
A mouth guard does more than protect your child's teeth. While teeth are important, your child's mouth and jaws also need to be protected. In the case of serious impact, your child's teeth could cause serious injuries of the jaw or soft tissue that could take weeks to heal, and even cause them to stop playing sports for a while.

Prevent Dental Emergencies
If your child had the chance to avoid going to the dentist, they would probably jump at it. This is the goal of the mouth guard, to prevent dental emergencies from occurring. If your child is resisting wearing a mouth guard, explain to them that it could prevent an emergency visit to the dentist as well as invasive procedures from needing to be done. Sometimes this is enough to convince anyone to wear their mouth guard.

A Requirement
In some cases, whether it is a specific sport or a specific league, a mouth guard is a requirement to protect the safety of the players as well as to keep the insurance premiums of the sport at a minimum, which is an easy way to convince your child to wear one.